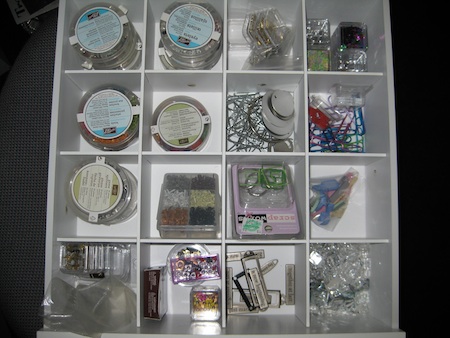 Brads and eyelets are considered "Embellishments". They are items used for decorative effect. They do have mechanical properties in that they attach ribbon and other papers to your projects. The eyelets or grommets are useful as well in enabling you to thread objects through the hole to enhance the embellishments and keep the paper from tearing.
Brads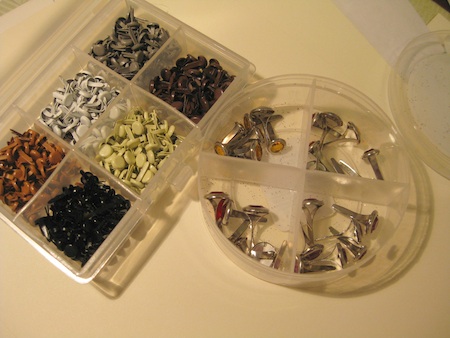 Brads are the most used of all "Mechanical" embellishments. They come in various sizes and colors, as you can see from the photo. There are brads with rhinestone centers to add "Bling" to your projects. You can also alter brads, by heat embossing, to coordinate with your paper selections.
I made a video a long time ago for my daughter to show her how to use brads as embellishments. In this video I show you how to alter a brad and set it in the image.
It is NOT NECESSARY to whack your brad into submission as I demonstrate in this video. Some paints applied to the brads at the factories will pop off from the whacking with a hammer. Some brads will also dent in the center from the whacking. If the brad you are using does not lie flat you can give the legs a tap, as I demonstrate, but tap lightly so as not to damage your embellishment.
Eyelets and Grommets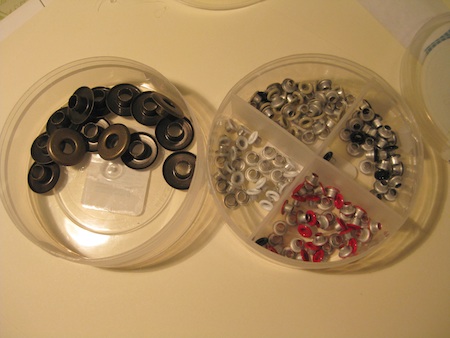 Eyelets and Grommets are both "Mechanical" embellishments. These are generally used to enable wire and ribbon to be threaded through them. The metal "boundaries" of the eyelet or grommet reinforce the paper to keep it from tearing as the ribbon is pulled tight and secured.
Grommets are used in mini albums along the binding edge to tie all of the pages together and keep them secure. Some people use ribbons through these eyelets as binding elements and others use lock rings then attach ribbons to the lock rings.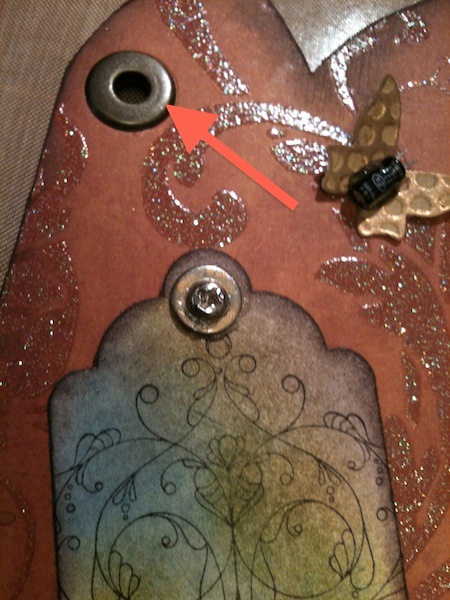 As you can see, in the photo to the right, I have used a grommet. This will be the edge binding of a mini album I made for a friend of ours. This is a chipboard mini album that I've covered with paper.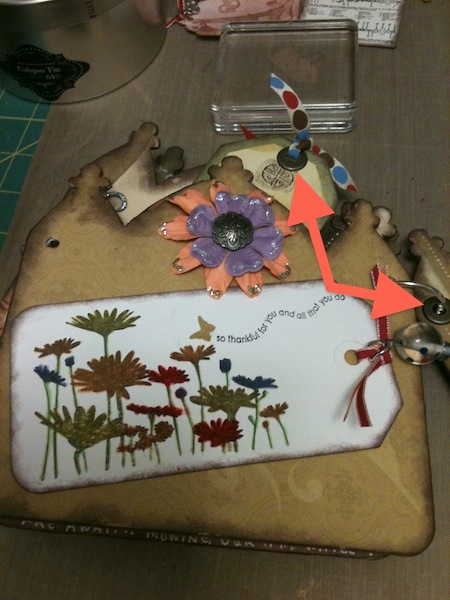 The photo on the left indicates two (2) places that I've used grommets. The upper most is placed on a tag and has ribbon run through the hole and the right most side shows the lock ring used to hold the mini album pages together.
Grommets and eyelets are available in a wide variety of sizes and colors. They can be purchased from your local craft/hobby store or any craft store online. The prices range from $1.50 to $8.
You will need to have a tool to set these with. The Cropadile works well in this application. To learn about the Cropadile you can visit my section of "Hand Tools".
If you have watched many YouTube videos on card making you will see that brads are used frequently. Brads are available at your local craft/hobby store or at any online craft store. Prices for brads range from $1 to $8 and come in sizes from 1/8" to nearly 1". In the photo to the left, you will see the orange and purple flower I have on the mini album page. The center of the flower is a brad that is about 3/4" wide and is very detailed. A set of four of this type of brad sell for about $4, depending on where you shop.