Feathers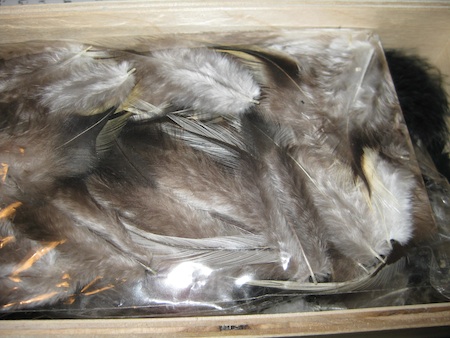 Feathers are used in paper crafting as embellishments.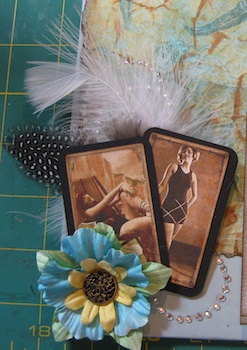 Tucked behind flowers, sprouting from buttons, or anything that will hide the feather quill is how they are used.
Feathers are purchased at craft/hobby stores, online from Etsy or eBay, or at any online craft store. The feathers I've purchased from my local craft/hobby store indicate they are washed and sanitized. Where they come from, I don't know. Nor do I know if they are duck, chicken, or goose feathers. There are some specialty feathers, such as peacock, with their bright colors and long lengths that cost around $4 for a single feather. The packs I purchase are about $4 and have quite a number of them stuffed in the package.
The adhesives used with feathers are whatever does the job for you. Personally, I use E6000 (which is covered in the Adhesive section of this website). You will need to have a quick acting adhesive rather than a slow drying glue. Slow drying glues can be used. The glue will need to set before you add anything else to your project, allowing the feathers to remain in their designated place.
Beaded Flourishes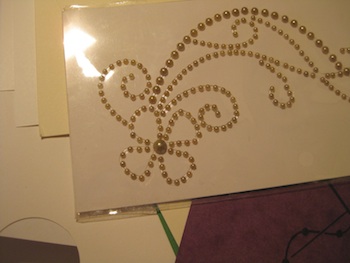 Beaded flourishes come in a huge array of types. Clear rhinestones, half backed pearls, colored glass, sweeps of swirls, floral pieces with swirls.
You can make your own by placing dots of liquid glue over a curved line then attach rhinestones or half backed pearls. If the rhinestones are large enough you can attach them with small glue dots along the sweeping line you have created.
As you look through a craft/hobby store or online you will see the different flourishes available to you. The manufacturers have tried to create this type of embellishment to fit the needs of a large population of crafters and their tastes.
The way the manufacturers create these flourishes enables you, the crafter, to use the entire unit as purchased or cut it apart and use pieces on your project. For example, the flower in the photo can be used separately from the flowing swirls attached. The small swirls below the flower can be used in a different project, like on a greeting card. This embellishment can be taken apart and used over several projects. It is not necessary to use the flourish in its entirety.
Glittered Flourish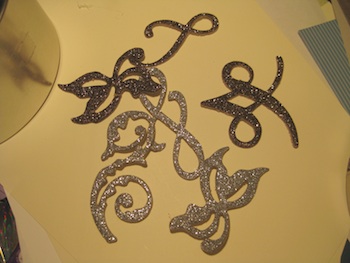 Glittered flourishes are die cut chipboard pieces with glitter attached in different colors. They are also set on clear stickers for your use.
The sizes of these pieces are small to large. Shapes vary as well. Some of these pieces can be used on masculine greeting cards and layouts because of the deep rich colors and the shapes that are not totally feminine.
Any of the items listed in this section can be used on greeting cards, altered items, scrapbook layouts, mini albums, and journals or books. These are "BLING" accessories that give your project a bit of sparkle with light reflection and texture from the raised effects inherent in this embellishment. Subdued or extravagant. The project uses are yours to decide.