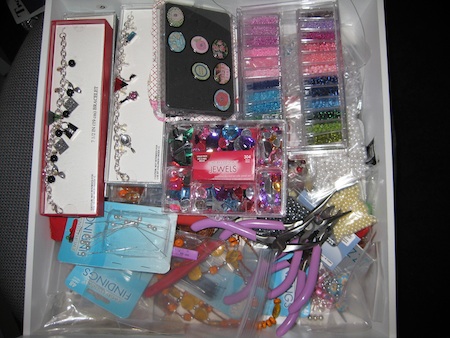 Beads and Charms
Beads and charms are used in many paper crafting projects. Greeting cards, scrapbook layouts, tags, altered items, and mini albums. You don't need to be expert in jewelry making to make use of these embellishments.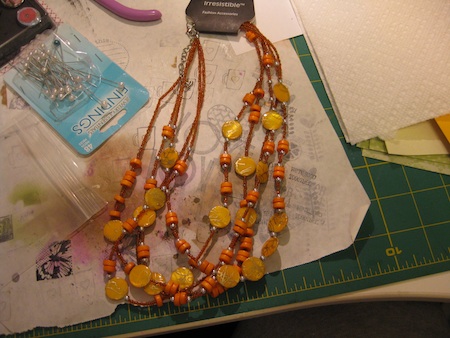 Beads and charms can be purchase at any craft/hobby store or online at Etsy or eBay. The prices range from $2 to $150 depending on the quality of beads you are most drawn to.
Seed beads can be purchased in packs of 100 for as little as $2. Hand blow glass beads are the more pricey and can run up to $150 for a set of four(4) beads. Seed beads are at craft/hobby stores while the hand blown glass beads are found on the internet.
Cheap costume jewelry, like the necklace pictured in this section, can be used as well. Just snip the filament, elastic string, or waxed thread from the necklace and pull the beads off. You can find some really great pieces of jewelry at thrift stores, yard sales, estate sales, and flea markets.
Altered Cigar Box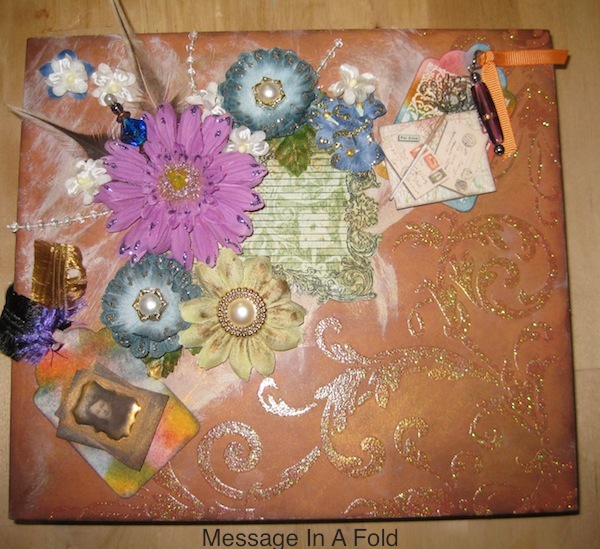 This altered cigar box I made for my daughter-in-law has a charm I made from beads I strung together using items from my stash. The charm I made is in the top right section of the cigar box. There is a "Stick Pin" with blue beads tucked under the large purple flower near the top left.
In the section title "Buttons" I mention using buttons in flower centers and this is an example of such a use.
You will notice the "spray" of beads sticking straight out in three different areas in the cluster of flowers. This is from a spool of beaded string I purchased from a craft/hobby store.
There are many videos on YouTube demonstrating how to make charms from beads and wire to add to your creations. If you are like me, a jewelry novice, your first attempts will look awful. Keep playing around with it and you will get better.
There are some craft/hobby stores that sell kits with beads, jump rings, chain, wire earring pieces, and the clasps for bracelets and necklaces. These kits will also include a set of hand tools to manipulate the wire. These sets range from $12 to $18 and are a good purchase to make. Just purchasing a set of hand tools for $10 then the selection of jump rings, clasps, beads, and wire will take you well over the $18 range.
The kits also include a handy carry case to keep all of this stuff in. Some kits will have a velveteen type plastic bead board with an oval ring through the middle which is used to place your beads in while creating your very own designer jewelry.
Stick Pins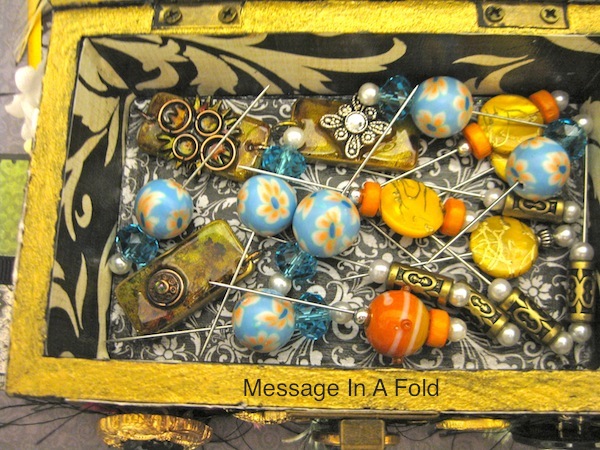 Stick Pins are another embellishment item created by you to add a bit of sophistication to your greeting cards, mini albums, or scrapbook layouts.
At your local craft/hobby store, or online, you can purchase "Corsage Pins". Some have a single white faux pearl atop the pin while others have a set of three graduated sized faux pearls. Select your beads and string them on the corsage pins. Add a drop of clear adhesive to each bead to make them all stay in place.
There are many YouTube videos about making stick pins and the varieties are endless, as are the techniques.