Buttons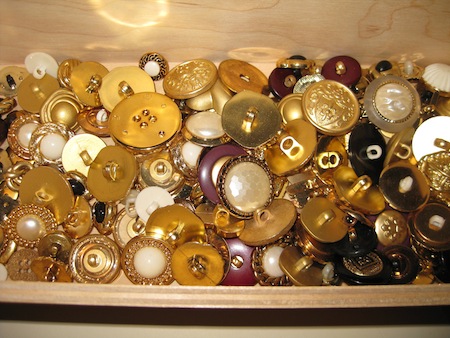 Buttons are a mainstay in crafting. The designs, sizes, colors, styles, and abundance of buttons are what makes these as likely embellishments.
If you look at a garment with buttons you probably think those little closures are bland and unimaginative. Mostly garment buttons are white, flat, and nearly invisible since they are everywhere.
I did a search at Hobby Lobby's online store site for buttons in scrapbooking. The diversity of buttons is astounding. On the first page, alone, I saw buttons for:
flowers
birthday presents or Christmas gifts
autumn leaves
sunglasses
dump trucks, trains, boats, airplanes
baseball, soccer, basketball, football
wedding rings
thread spools, needles, measuring tape, sewing machine, thimble, scissors
baby bottles, diaper pins, bibs, baby faces, stuffed animals
camping tents, deer, camp fire, canoe, binoculars, backpacks, sleeping bags
Christmas trees, Santa, elves, presents, gingerbread men, candy canes
winter mittens, snowmen, snowflakes
These were just on the first page of over 7 pages. 172 button items in total for scrapbooking!
Buttons are used as flower centers, placed in a grouping of three in a horizontal or vertical line, used to emphasize a large circle on a page, and use as the main embellishment on a piece of wall art by covering the entire piece with buttons.
The buttons with holes can have thin ribbon, twine, embroidery floss, and cotton thread woven through the holes. Tied on the front for an extra visual punch or tied on the back to look like a regular threaded button.
Your imagination is what determines the style of your buttons on a greeting card or layout.
Hit the flea markets, yard sales, and estate sales for buttons to use in your crafting. There are many sites like Etsy and eBay that sell "Vintage Buttons", as well as newer types and styles. Your particular tastes and likes is what will determine the choice of buttons you use in your crafting. There is no right or wrong button to use.