Adhesives Used In Paper Crafting
As you venture further into the world of paper crafting you will find there are adhesives for different types of hold. The different adhesives used are dependent on the project itself. Flat objects, such as photos, mattes, card faces, and sentiments will generally use an adhesive that is permanent and thin. For projects, such as greeting cards, with a raised element you will need a foam adhesive. For projects that need a bit more hold to keep them secure, generally, liquid adhesives are used.
Throughout this section you will find out about the various types of adhesives and what they are used for. To start this out I'm going to tell you about the "DRY TYPE" of adhesives.
Double Sided Sticky Tape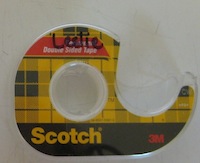 Double sided sticky tape, or double sided tape, can be found at most stores. Grocery, big box, office supply, craft/hobby stores, and online at tons of places where office supplies are sold.
This tape is very good because of the "Sticky" glue that it has on both sides of clear acetate. You can use this tape in scrapbook layouts, card making, and gift items. It is, however, not so strong that you can use it to make books or journals with. I DO NOT RECOMMEND using this tape in scrapbook layouts. Although it can be used in layouts this product will age, turn yellow, and the glue will separate over time and possibly cause damage to your photos. For card making this is an excellent tape to use.
Tape Runners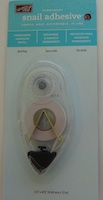 "Snail" adhesive is sold exclusively through Stampin' Up!.
There are other types of "Tape Runner" adhesive that can be purchased from craft/hobby stores or online at scrapbook and card making stores. This is a Permanent adhesive. Once it is applied to photos or papers, then "burnished" or rubbed securely in place, the item is not easily removed without damaging what it is attached to.
This type of adhesive is less messy in application. Meaning your fingers do not come in contact with the adhesive. It rolls on photo backs and paper with ease. A little pressure applied to the tape runner then pulling it along the length of your paper is all that is needed. Some of these adhesive packages are totally disposable. When it runs out of tape you throw the entire thing away. Other types of this adhesive have a refill cartridge that snaps in place, as the Snail does.
Reviews on this type of product are mixed. Some swear by this type of adhesive application and others wouldn't have it in their homes. Some people say the adhesive is not strong enough and after a while pieces begin falling off of pages and cards when the adhesive gives out. Bar far, the biggest complaint is that there is not enough adhesive in one roll. If you are planning on doing a lot of cards or scrapbook layouts you may think about having a couple extra of this type of adhesive stashed away in the event that you do run out. Most of these dispensers hold about 30 feet of adhesive. The normal cost of one of these tape runners is about $5.00 and the refills are about the same price.
Glue Stick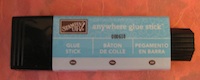 Glue stick is a mostly dry product. Although it feels a bit wet when you touch it, it is still considered dry. This type of adhesive is available at any craft/hobby store, online at any scrapbook or card making store.
This is another adhesive that has mixed reviews. Some people use it on everything. Photo backs, papers, and even some embellishments. To use this adhesive you would use it like you do a stick of deodorant. Twist the bottom until the adhesive appears then smear it around on what you want adhered. Some of the glue sticks come in a purple or blue color. During application the glue will be the color it comes in. Once it has had a bit of time to "dry" it turns clear. One good thing about this adhesive is that if some of it squeezes out of the back of your photo or paper clean up is just wiping it off with a paper towel. If it gets on photo fronts it leaves a dull residue where it will remain for the lifetime of that page.
Some people say it is not "Sticky" enough and doesn't hold well. In my experience, I have found this partly true. I've used this type of product on the back of photos. After it has dried for a couple days and I pick up the layout, not supporting it very well, I hear cracking. You can remove photos attached with this adhesive by slightly bending the layout where the photo is. Don't get so carried away that you put crease marks in your photo and ruin them. After a bit of bending the photo will pop off from where it was stuck. As a Permanent adhesive I would not recommend this as your adhesive main stay.
Sticky Strip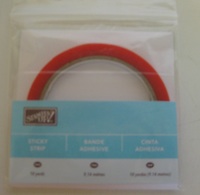 Sticky Strip is a product sold by Stampin' Up!. This is a double sided tape that has a very powerful adhesive.
This type of product has a couple different names. "Red Liner" tape, because of the red protective covering over the adhesive. "Terrifically Tacky Tape" is the name of Provo Crafts product and can be purchased at any craft/hobby store or online at any scrapbook or card making store.
If you want a REALLY PERMANENT adhesive this stuff is it. It sticks to your fingers as you try to attach it to your paper, it sticks to all the other papers you may have adjacent to what you are trying to put this tape on. Once this stuff comes in contact with paper it is stuck, even before you "burnish" it (rub on it to set it).
This tape is excellent for assembling paper bag albums, inside covers of books or journals, creating paper boxes, and so much more. It is a bit expensive so using as a standard adhesive is not recommended. This product comes in different widths in craft/hobby stores. From 1/8" up to 1". You can purchase 8-1/2" by 11" sheets of this from craft/hobby stores. Cut a piece from the sheet to hold microbeads as an embellishment, or for sticking individual pieces of paper that are trimmed to flower petal shape to create flowers.
Mounting Squares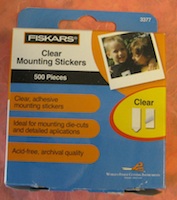 Mounting squares come, mostly, in boxed rolls. You pull on the strip tucked into the slot on one side of the box and a Mounting Square will "stick its tongue out" for you to grab it and place it on the backs of photos to be adhered to a scrapbook layout or to a card front element.
Mounting squares are available at any craft/hobby store or an online scrapbook or card making store. The squares come in different shapes. Some are actual squares about 1/2" by 1/2", others are 1/4" by 1/2" and they come in clear, white, and black (in some places). This adhesive is good to use on the backs of photos to attach them to your layouts. Put one in each corner and one in the middle. If you have a 5" x 7" or an 8" x 10" photo you want to attach you will need to apply more of these squares.
As far as expense goes, they are around $3 to $4 a box and generally hold about 500 pieces per box. In a pinch, you can use the mounting squares in card making and throughout your layout if you run out of a tape runner adhesive.
Repositionable Tape Runner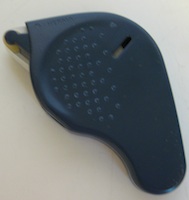 This product is sometimes known as "Dotto". This product is made by Herma and comes in both permanent and repositionable adhesive. You can purchase this at any craft/hobby store or online at any scrapbook card making store. It is called "Dotto" because it is individual, very small, dots of glue. The great thing about this adhesive is that it can be wiped off if you get it on something you didn't want it on. Just rub around the extra glue until it balls up, pick it up or sweep it with your hand to the trash. Both the permanent and repositional adhesive have this ability.
When I first began making scrapbook layouts this adhesive came highly recommended to me. The cost can get up there if you are on a budget. The entire dispenser loaded with the adhesive is close to $10 and the refills are over $5 each.
The problem I had with this adhesive is I could never remember how to put the refill in. I always got it backwards, even with the accompanying instruction leaflet with a diagram for loading. The permanent adhesive would ball up inside the case and cause some problems with getting the tape to work properly. I've taken mine apart so many times and used rubbing alcohol on it to clean up the excess glue that I could do it in my sleep. Other than these few problems, this is an excellent adhesive to have on hand. It is not messy and clean up is really easy. Even if you get some of the adhesive on your favorite photo of your children it rubs right off and leaves no residue. Like other tape runners of this sort, the amount of adhesive is about 30'. Seems like a lot when you think about it, but if you are doing a lot of cards or layouts that 30' can be used up fairly quickly.
Vellum Dots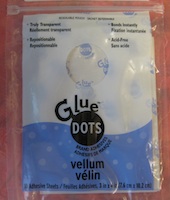 Vellum requires some very special adhesive that does NOT show through to the front side. Because of the "see through" properties of vellum regular adhesive placement is crucial. Regular adhesive has to be hidden behind something, such as a flower, sticker, lace, or anything that will cover up the unsightly glue.
Vellum Dots is a specialty adhesive. Like the Herma Dotto, this adhesive is lots of tiny dots and comes on an acetate sheet that you can cut to the size you need. Cut off a small square of this product and rub it on a back corner of the vellum you want to place on your layout or your card and the adhesive does not show through to the front side. And it sticks really good, too.
Vellum Dots can be purchased at any craft/hobby store or online at most scrapbook and card stores. Like most other adhesives it is a bit pricey at over $5 for the package but it is well worth the expense if you will be using Vellum.
Your "Smoke Detector" is not going off!! I have had a problem with ours and you hear the "Beep" in several of these videos. Sorry.
ATG Gun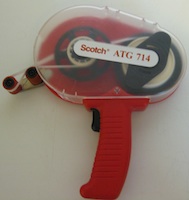 This is the "Big Kahuna" of adhesive runners. And it is quite expensive! When you see the price tag on just the ATG Gun itself you will probably exit the website and go on to other things. In the long run, this is the adhesive runner to purchase. Why?
36 YARDS of adhesive as opposed to 30 feet for starters.
Strong adhesive that works wonders on paper bag albums, cover papers for books and journals, and securely holds all of the items on your scrapbook layout or cards.
I purchased mine from Binding Source. The "Starter Pack" is $75.96 before taxes and shipping and comes with two (2) adhesive refills of 36 YARDS of adhesive.
There is an Acid Free adhesive that Binding Source sells for this ATG Gun. I highly RECOMMEND the Binding Source for a couple reasons. First, because you can order just one or two rolls of the correct adhesive for your ATG Gun. They don't make you order the entire case as some online stores do. And, the very best is that this is a business owned by a husband and wife who know what "Customer Service" is all about. You don't get put on hold and are forced to listen to the recorded options then press the appropriate button. There is an actual live person there to answer the phone that can, and will, answer your questions. Your items are shipped the day they receive payment from your credit card and it comes in a box that can take a pounding. They don't ship anything they've sent to me in bubble wrap envelopes.
Loading the adhesive in the ATG Gun can be a bit tricky. Most especially so if you have the wrong type of adhesive, which I have done. This video shows you how to load the ATG Gun and the visual of comparing the small tape runner to the ATG Gun, you'll see why this is a good tool to have in your craft area. Here is the video on YouTube Scotch ATG Gun.