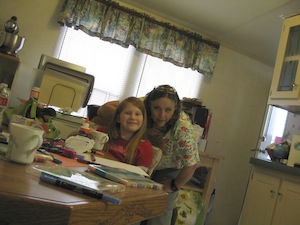 This is me with the cutest little former neighbor. She and her sister (who took this photo of me) used to live next door. Katie, pictured, was my crafting buddy. I could always count on Katie coming over with her crayons, glitter glue tubes, stickers, and coloring books about once a month. Now that her family has moved I don't get to craft with her much.
Part of the year I am an over the road truck driver. From spring through fall I travel the highways of the US taking photos of the people we meet, the different trucks I drive, and just about anything else that will be still for a few minutes.
My family, children and grandchildren, are scattered across the midwest and western part of my world. I do get to see them yearly but they are not into crafting. I'm hoping to get my hands on my grandchildren as they get older and teach them the wonders of being artistic.
What is in my website?
You will find photos of items I've made for my family over the past five years. These can be seen in the GALLERY section of this website.
Being "self taught" has given me a knowledge I would like to share with you. This website is dedicated to all BEGINNING CRAFTERS. You will find tips and techniques for just about any paper craft you are attempting.
This website is not just for beginners. SEASONED crafters may find something here that will remind them of things they had done long ago and would like to revisit old favorites. Who knows, I may have a shortcut in a technique or a way of combining the newer products to the older tools no longer used.
You will find videos I've made. Being an amateur at movie making some of the videos are less than perfect. It is all a learning curve, just like learning how to make cards, scrapbook layouts, altered items, and anything else. Learn as you go. The first results are not stellar but each attempt gets better. I hope anyway.
Videos included in this website are in the Cards and Scrapbook sections.
I am no longer a Stampin' Up! Demonstrator. The products used in these videos may be discontinued or obsolete. These videos are for instruction purposes only.