What is an Altered Item?
An ordinary, every day, item that serves one purpose. A book, lamp, recipe box, shoe box, picture frame, bulletin board. Anything found at a flea market, thrift store, garage sale, or just something you have around your home.
As paper crafters everything we see has potential to be something different or enhanced. In keeping with the "Green" or "Eco-Friendly" movement of today we have the ability to change a worn and tired object into something new and different.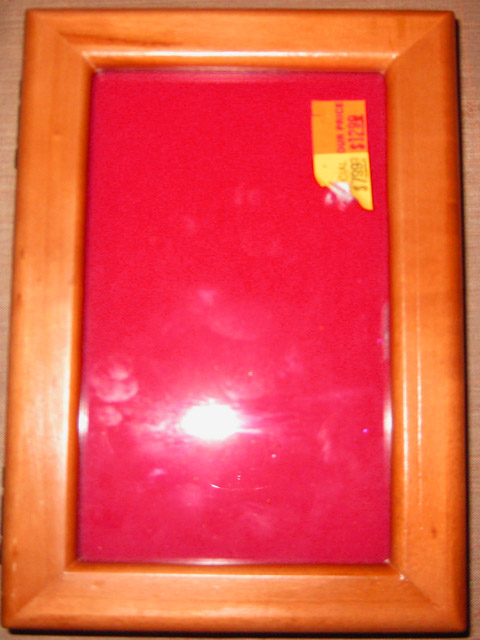 Take this "Momento Holder" for example. This wood box with hinges and a glass view window is meant to display medals. Military ribbons and medals are what normally are displayed in this type of box.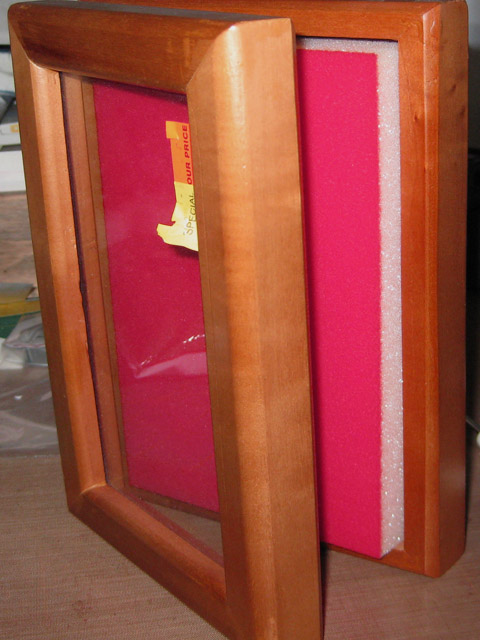 This holder would sit upon a shelf, possibly in a living room, or on a fireplace mantel. A visual reminder of military service and the honors received during that loved one's time away from home.
This special box would have been taken to, or purchased from, a framing shop that knows how to professionally display those precious medals and other memorabilia of a military hero.
My husband and I often stop at Shepherd Hills Outlet Store in Lebanon, Missouri as we travel on I-44 through that state. At Shepherd Hills these boxes are known as "Display Cases" and are sold to collectors of pocket knives, zippo lighters, and other things guys collect.
Altered Momento Holder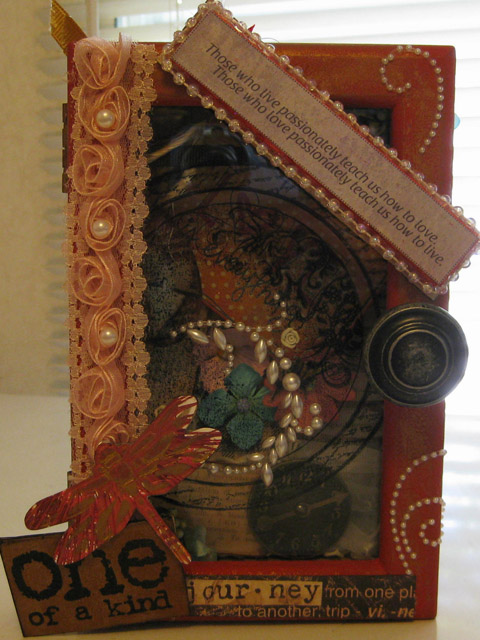 I purchased one of these display case/momento holders with thoughts of giving one a new life.
I stamped a background image to the glass, added a flat back pearl flourish, some lace trim to the left frame, a few pieces of chipboard attached in several places to the outside frame, a die cut dragonfly was added to the front. I even had my husband drill a hole in the center right frame for a cabinet door knob.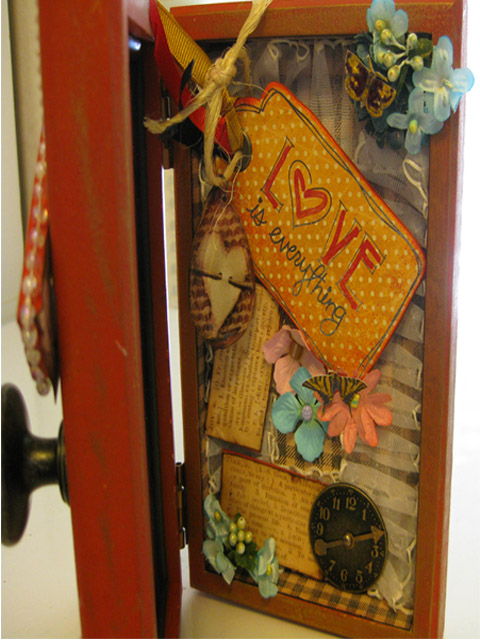 The inside I covered with paper with a plaid print, added ruffled lace all around the inside, attached flowers, butterflies, a Tim Holtz "Facet" item, and a Tim Holtz "Clock" piece, along with a chipboard tag.
A friend of mine had lost her husband Christmas of 2010. I wanted to make something for her that would speak to the love they shared and the way he always encouraged her to "spread her wings" and fly. She is a crafter, as well, and I hoped she would appreciate my gift to her in celebration of his life with her.
Picture Frame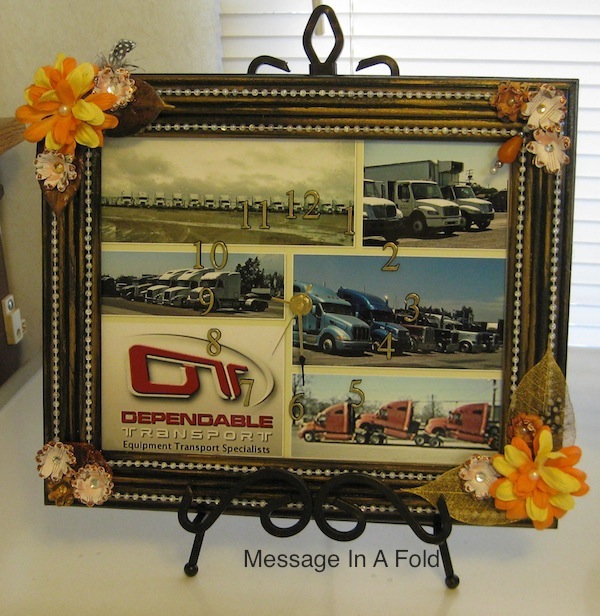 I have used picture frames I've found at thrift stores to create clocks. The glass and original chipboard back is removed. I have a 1/4" piece of plywood cut to 8" x 10" with a hole drilled in the center for the clockworks.
This clock was made for one of the companies I drive for in my "Day Job" during part of the year. The photos are of trucks my husband and I have personally delivered, other trucks at an auction lot, and one of the modes of moving these trucks over the highways that someone else uses.
I went to Wal-Mart with my photo selection on a thumb drive and had the selected photos made into a collage.
I painted the frame, added beaded string, flowers, feathers, and a stick pin I made. The clock face was mounted to the photo and the clockworks was attached from behind through the center drilled hole.
Wooden Plaque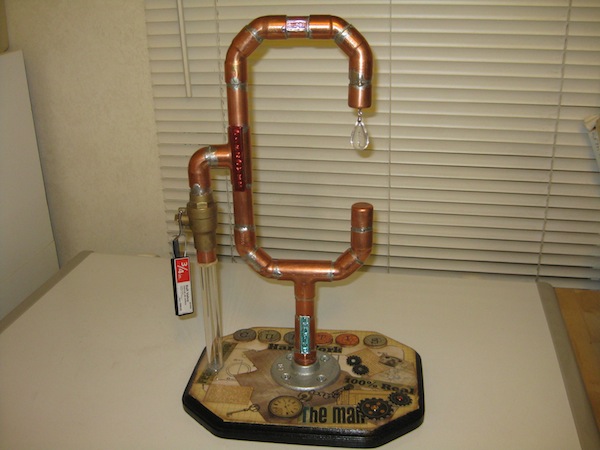 One of our sons is a Mechanical Engineer. He designs all the plumbing, heating and air-conditioning, bathrooms, kitchens, water displacement through gutters, natural gas lines, and all kinds of mechanical stuff that gets built into buildings. He works on schools, office buildings, a railroad depot in New Mexico, and a myriad of other buildings.
For his birthday a couple years ago I conned my husband into soldering copper pipe into the shape of the letter "C" for our son's first name then attaching his construction to the wooden plaque base that I altered with paper, and lots of other stuff.
My idea was to have the piece look like water is flowing out of the letter shaped tubing somewhere and a drop of water is about to fall from the one side of the pipe - the opening for the letter "C".
Through collaboration my husband I made something for our son that no one else in the whole wide world has.