Line and Solid Stamps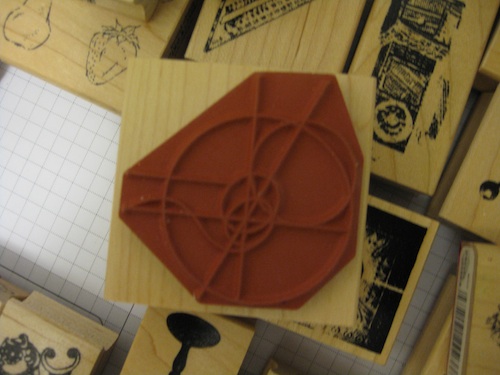 Rubber stamp images come in two types - Line and Solid. The size of these stamps change with the size of the image created. There will be teeny tiny stamps of line images, as well as, solid images. The sizes graduate up to huge blocks you can barely get your hand around. Some large stamps take two hands to position, and this needs to be done on the floor so you can stand on the stamp to get proper pressure and image transfer.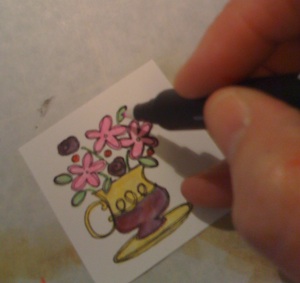 Line Stamps
Line stamps create a line drawing that has "white" space within the image so you can color it in. This is an example of a "Line Image".
It is acceptable to use any type of marker for greeting card images because they, generally, won't be put in photo albums. However, the markers you purchase at craft/hobby stores in the scrapbook section or online at scrapbook and card websites will be acid free and are used for both scrapbooks and cards.
There are several lines of markers available to you by various manufacturers. You can purchase them singly or in packs of three or more. Most all markers, no matter the manufacturer, come with two tips on each marker. One tip is fine for writing and detail work, the other tip is a brush end for placing a lot of color with one stroke.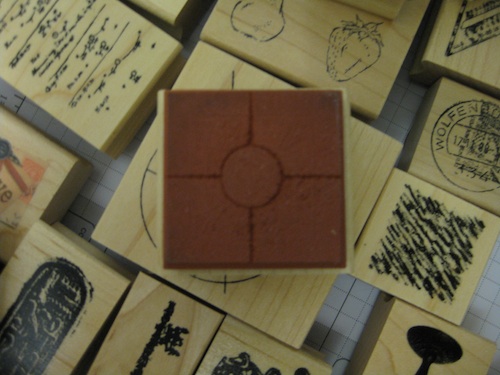 Solid Stamps
Solid stamps have images that have very little "white" space. Using an ink pad with a Solid Stamp will give you an image that is totally filled in EXCEPT for the areas where the impression is deep into the block. See the photo to understand what I mean.
To get multiple colors with a solid stamp, such as the one pictured, you would use markers to color each individual square area and the center circle. Once the image is stamped the "white" space will be the division between the squares and the circle.
There is a technique, called "huffing", that is used when applying markers to rubber stamps. As you add the color from the marker it will dry out before you finish getting the stamp fully covered. To "regenerate" the marker ink you hold the stamp close to your mouth and "huff" on it - like you would fog up a mirror. Then immediately stamp the image to paper.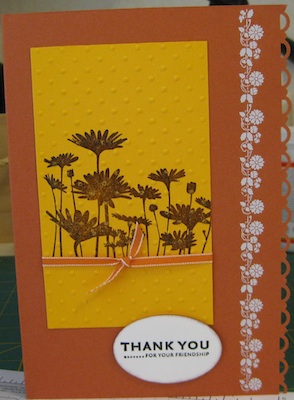 This is an example of a "Solid Stamp" using one ink color. The flowers, on the yellow card stock, have no details. You can't see the veins and marks in the individual petals, nor can you see the flower center. All you see is a "silhouette" of the flowers.
Notice the stamped image on the right of the card? The image that runs vertical? That, too, is a solid image stamp. I've used a white craft ink to stamp that image. Both of the images on this card face are SOLID.
Sentiment stamps, the stamps with words or phrases, come in both Solid and Line type.
One thing I neglected to mention is rubber stamps are not all made of "Rubber". There are clear silicone type stamps many manufacturers have gone to. These stamps you can see all the way through from the back of the block to your paper surface. These clear stamps do stain and turn a yellowish color after use. Especially when using black inks. I don't know why, they just do and that is normal.