Types of Stamps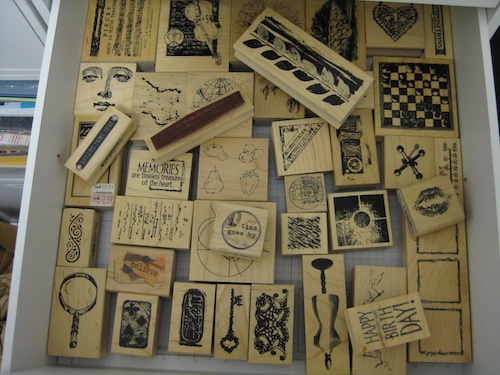 Rubber stamps come in a variety of sizes and widths, as well as line and solid varieties. In this photo, the images are of people, maps, nature, toys, musical instruments, objects, and shapes. Whatever your interests are there is a stamp that will fit your needs.
As you can see, the size of the wood blocks are varied. Some are long and narrow, others are small and square, while others are a bit larger in size and are square shaped.
You can see one stamp is upside down with the rubber showing. The stamps in this drawer are all WOOD MOUNTED stamps. Which means the rubber stamp is "Mounted" to a wood block.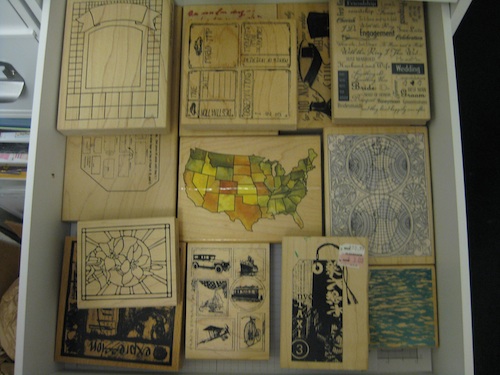 Large Stamps
Large stamps are 3" or greater in size. As in the photo, they consist of background, tag, multiple images, and maps. These stamps are an assortment of both line and solid. The tag stamp is both line and solid in one stamp. This is not only found in the larger stamps, all stamp sizes have their share of solid and line drawing on one stamp.
These stamps require special handling. All this means is they are best handled upside down on your table surface with the rubber exposed. You will pounce the ink pad on top of the rubber area to coat it with ink. When done with that you will pick up the stamp, turn it so the rubber is facing down then apply the stamp to your paper.
These larger stamps also require a LOT of pressure to get the image transferred.
Spot Stamps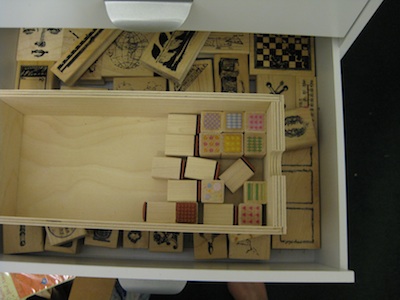 Spot stamps are small and range in image size from 1/4" to 1". This type of stamp is used as a "filler". For example, if you were to use a solid stamp, and stamp it multiple times and in all kinds of angles the gaps between each image could be "filled" with one of these spot stamps.
Although tedious, these spot stamps could be used to create a background filled with one of the images. For example, a stamp that has a square image could be stamped across a piece of card stock five times in black ink then use a red ink (always clean your stamp of all ink before applying a different color) for a similar sized stamp and then go back to black for five more. Continue this process and fill your card stock piece. When finished you will have a black background with red pops of color. If you try this, just know that no matter what you do these images will NOT turn out precisely spaced and even. The unevenness adds interest to the solid background, even with the pops of red.
Clear Stamps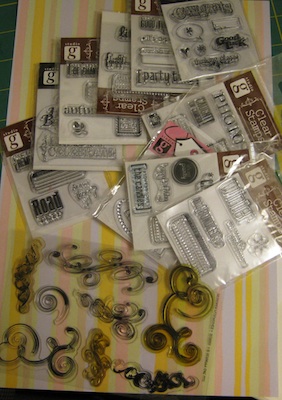 Clear stamps, as shown in the photo to the right, have a sticky back to them that allows for attachment to clear acrylic blocks. This style of stamp comes in a huge variety of images and sizes.
The problem with using clear stamps is you have to have extra padding beneath your paper when you stamp. Inking these clear stamps and stamping on the paper laid upon your table surface makes for dull and spotty images. The way to handle that is to put a mouse pad, or something similar, beneath your paper and then stamp your image. The cushion of the mouse pad allows for the full image to come in contact with the paper.
I mentioned in "Basics of Rubber Stamping" that clear stamps turn YELLOWISH when used. These are the types of stamp I was referring to.
Just because the stamp has turned yellow does not mean it is bad and should be trashed. Just know you will have discoloration and that comes from the properties of the inks used. Mostly black inks cause this to happen.
Alpha Stamps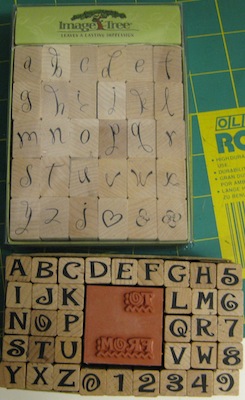 Alphabet stamps come in a variety of fonts and sizes, wood mount (as shown) and clear mount. Personally, I prefer the clear mount type. It is easier to spell a person's name or make a word with the clear mount by attaching the letters directly to the clear blocks. These wood blocks make it difficult for letter spacing horizontally and vertically since I can't see where I'm stamping the images.
Alpha stamps are used for "Personalization". A person's name, the name of a city or state, a country even. Alpha stamps can be used to create scrapbook layout titles instead of using stickers or die cut letters.
Alpha stamps come in sizes from 1/2" to almost 2". They also come as solid images, as shown in the photo, and as line images. Line images of letters can be colored in using markers similar to the color of your layout.
Check your local craft/hobby store for rubber stamps. The Wood Mount stamps will be displayed on a wall or shelves while the Clear Mount stamps will be hung from pegs. While looking around your local craft/hobby store keep an eye out for the sale bins. Michaels has an area near the registers with tons of stamps - both Wood Mount and Clear - for $1 each. Also look in the same area for small ink pads. The quality of these items are great, even at the price of $1!