Using A Die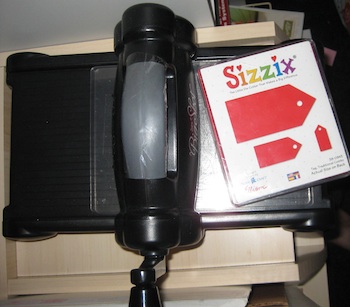 I want to use some tags on this layout, I'm just not sure where and how many. I've had this die for quite a long time. I don't use it much but I do like the fact there are three (3) sizes of tags in this one die. You can cut through cardboard and chipboard with this die and have excellent results. The dies with multiple shapes are good to have on hand. With small paper scraps you can cover the smaller tag shapes to cut only them out. You don't need to cover the entire die each time you use it. Just the portion you want.
Looking for a die cutting system? Visit your local craft/hobby store or an online scrapbook store. The Big Shot machine handles every die size from the tiny QuickCuts dies on up to the Bigz Dies and LetterPress Debossing System.
Tags As Embellishments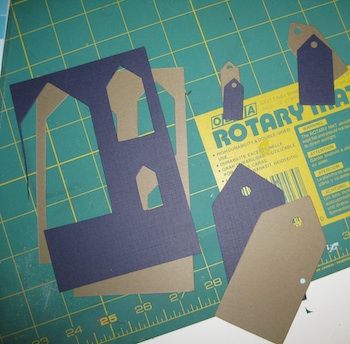 Having blank tags to work with can, sometimes, be a challenge. What to put on them. Do you write on them? Put stickers on them? Stamp images on them? Yes to all of these questions. There is a lot you can do with blank tags. I'm going to show you in this section what can be done with tags. More will be covered in the next section - Journaling - that will help you with the blank spot in your creativity with tags.
Don't worry if you do not have a die cutting system in your craft space. Tags of all shapes, sizes, and colors can be found at your local craft/hobby store. You can order them online at any scrapbook website. Check eBay in the craft section and you will find a ton of tags for a moderate price.
Follow along in this section to see the things you can do with tags. Then check out Tim Holtz blog for his stunning tags to see the possibilities that await you.
Using Rub-Ons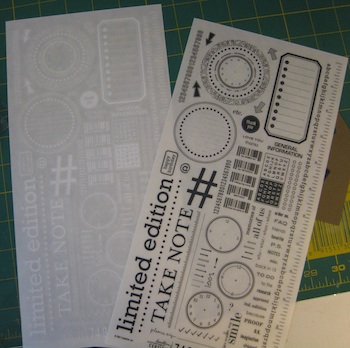 Rub-Ons are an excellent choice for tags. Cute little sayings, graphics that can be personalized. Your imagination and creativity is what you need with Rub-Ons.
This set of Rub-Ons have the same images. One set is all in black and used on lighter colored card stock, the other set is the same except in white and used on dark colored card stocks. Rub-Ons are not just for paper. You can add them to thoroughly dry painted surfaces, metal, wood, glass, acetate, plastic, and smaller images can be placed on gems as long as you can hold the little guy securely down while rubbing.
Check your local craft/hobby store or your favorite online scrapbook website to see what they have for Rub-Ons. Using Rub-Ons can take the place of using your computer's Desktop Publishing program when you want to create a graphic element using words.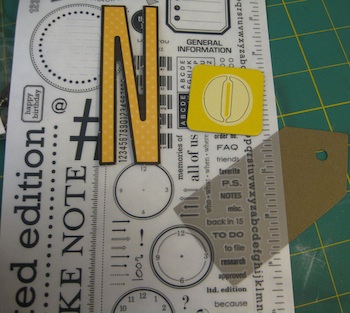 Please do not put your card stock under the Rub-Ons as shown in this picture. I've put the word NO to caution you from doing this very thing. Rub-Ons are a bit cantankerous. They will stick to most everything with very little pressure. If you were going to use one of the clock faces shown in the photo, chances are you will get some of the words to the right on your card stock. That will not be good, because, once those crazy Rub-Ons are stuck on paper it is next to impossible to get them off. The pressure of your hands will be enough to cause wayward images and words to stick.
You will see, by example, further down this page how to cut the selected portion of the Rub-On away and use it properly.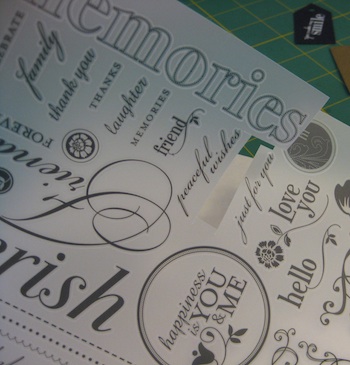 When you find a word, phrase, or graphic you want to use, cut it out first from the sheet. This will save you so many headaches. It takes a bit of time to cut the item out since everything is jam packed on the sheet. Some care does need to be taken when cutting your image, phrase, or word out but you will be glad you did.
By cutting the image, phrase, or word from the sheet it will be so much easier to see where you are placing the Rub-On. Getting it lined up "just right" is so much easier to do with the image itself than it is to try to move the entire sheet around.
From my own personal experience it is best to use caution when cutting away a Rub-On piece. Because of the very nature of these things space is a premium. Companies that create Rub-Ons try their best to pack as much into the product as they can.
As you cut away the piece you want be careful to not cut into the image(s) around your chosen piece.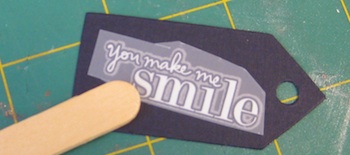 Lay the Rub-On down on your paper, or whatever you are putting it on. With the popsicle stick, and holding both the paper and Rub-On securely in place, press the stick, supplied with your Rub-Ons, firmly down and begin rubbing back and forth. Rub all over the image you want transferred. Keep rubbing until the paper begins to curl away from the image.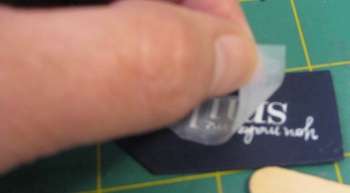 Very carefully peel the protective paper away. If it does not come up easily don't pull on it. Some of the image is still stuck to the protective paper. Rub more with the stick and try to peel up the paper again. Once the paper comes free, easily, the image is transferred to your item and it will not come up. Even with a sharp implement! It is stuck good.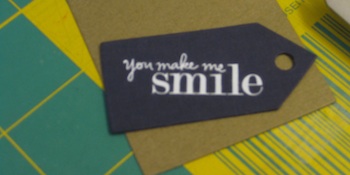 Success! You have now created a "One of a kind" embellishment for your layout or card. It was easy to do, and you didn't have to use a rubber stamp and ink to make this tag, and best of all you won't find a tag like this at any store.
You will find craft/hobby stores don't have EVERYTHING. Sometimes you have to get creative. There are tons and tons of items available to help you personalize your layouts. Once you feel confident in what you are doing and learning you will be more free to really OWN your crafting.
Faux Stitching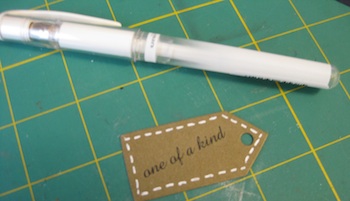 Add a bit of visual interest to your tag with a pen or a marker that is safe for scrapbooks. I've used a White Gel pen to create the "Faux" stitching lines around this tag. You can make "Doodle Dots" which is a series of one stitch line or an elongated "S" then make two (2) dots, or periods, followed by another stitch line or elongated "S" all the way around your tag. Add more doodles if you want within the border and around the Rub-On image. Make the tag your very own creation.
Using the white gel pen, once more, I've written "Simon is" on the smallest tag. It just barely fit on that bitty tag. Remember, if you make an "oopsey" while you are working - there is another side - turn the paper over and use the other side. No one will know that you goofed because it will be well hidden.
You don't have to make Faux Stitching around your item. You can use a ruler and draw lines for a border. If you have a large enough tag and a border type stencil you can follow the stencil with your pen to jazz it up and make it pretty.
Experiment and play around. This is supposed to be fun and you are a creative person. Give yourself permission to just play.
Placing Your Embellishments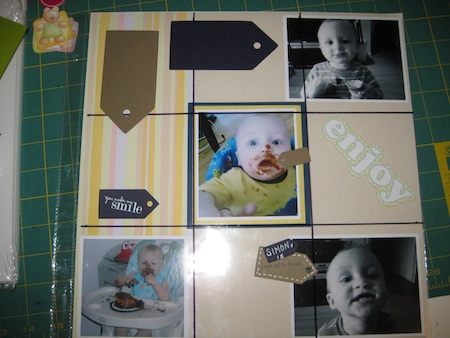 Before you stick any of your wonderful embellishments down, "Audition" them first. Gather up everything you want to use on the layout and place them where you think they will go. If you will be using stickers cut around the protective paper, leaving the sticker on the paper. This will allow you to move the sticker around until you find the right place for it.
Keep in mind the "Rule of Thirds" while you are placing your embellishments. As you can see in the photo I've placed my layout inside the sheet protector and the embellishments are being placed on top of the sheet protector.
Don't know why your layout looks a bit wonky? You've got everything you want to use but it just does not look good. Something is wrong here. You can see it but you just don't know Why it doesn't look good. In this photo, all of the "Heavy" items are at the top, and the light (or smaller) items are at the bottom. There are huge gaps at the middle and bottom and the top is full. You might have to dig around in your stash and find other things to use. You might even have to do more creating.
Balanced Layout
As you can see, in this photo, I've added three big chipboard images and put them in the larger spaces. The two large tags I've cut out are together at the top. The three smaller tags are now placed together in the center square at the bottom of the page.
Now the space is filled better. There is better movement across the page. Your eyes are not jumping from one small image to another and in a "holding pattern" trying to figure out what is wrong with what you are looking at.
To address the "Rule of Three" you can now see that I have three (3) chipboard pieces in a triangle. The top center, and right and left on the center row. If you are working with large flowers you can do this also. The next "Rule of Three" on this page is the dark triangle made with the two black and white photos on the right top and bottom and the large dark tags in the top left. Balance is what you are looking for. Visual triangles and this Tic-Tac-Toe cheat sheet help you see where you are going.
In the next section I will address "Journaling" and it is a very important step in your scrapbook layouts.