Cleaning Rubber Stamps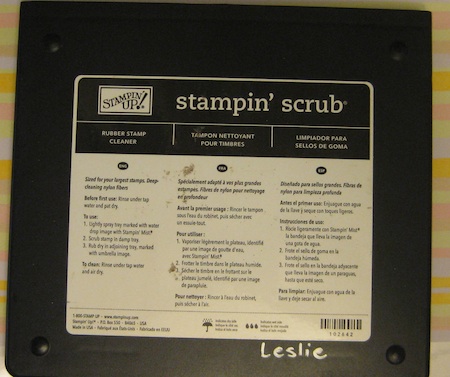 As you search the internet to get your answers about cleaning rubber stamps you will find many ways to do this task. There are products you can purchase at your craft/hobby store or online at scrapbook and card making websites to do this messy job.
A quick word of CAUTION while we are on the subject of cleaning rubber stamps. DO NOT USE ALCOHOL. Rubbing alcohol and any products that contain alcohol will dry the rubber out. After a while it will become brittle, pieces will fall off as the rubber deteriorates, and it will no longer be cushy and soft. Please avoid anything with alcohol in it.
Now that I've properly warned you about alcohol, what are your options when it comes to cleaning your rubber stamps?
A wet wash cloth that has been wrung out and is fairly damp.

Baby Wipes

Pounce the stamp on scrap paper until the image no longer shows.

Spray the stamp with water then wipe dry on paper towels.
Damp Rag: Place the wet wash cloth on a plastic disposable plate or any kind of plate/bowl that is not paper. This will keep the water from soaking through from the wet wash cloth and ruining whatever is beneath it. Vigorously rub your rubber stamp on the wet wash cloth until all the ink has been removed.
One more word of CAUTION. Please use a wash cloth that is not from your good set. The ink you are removing from the rubber stamp will stain the wash cloth and will not come out. Even washing it with bleach. Trust me, I have a very stained wash cloth from doing this.
Baby Wipes: Once again, please check the package information closely. Make sure there is NO ALCOHOL in the baby wipes you grab off the shelf. You will need a non porous plate/bowl beneath the baby wipe to keep the wet from soaking through and ruining what is beneath it. When you no longer get a clean rubber stamp, just toss the baby wipe away and get a fresh one.
There are oils in the baby wipes that will protect your rubber stamps from drying out and becoming brittle. As long as there is no alcohol in the baby wipe. I can not stress this enough. NO ALCOHOL.
Liquid Rubber Stamp Cleaning Solutions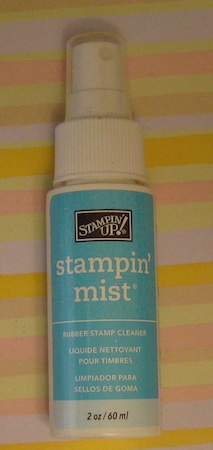 Stampin' Mist is a liquid solution that is sprayed on your rubber stamp. Once you spray the stamp, vigorously rub it on a stamp cleaning pad, wash cloth, or paper towel. This solution will clean off all of the pigment and dyebased inks you use in your rubber stamping projects. There is a conditioner in this spray to keep your rubber stamp soft for many years of use.
Staz-On Cleaner is used to remove any Solvent Based inks you use on your rubber stamps. There is a sponge applicator tip beneath the cap of this product. Rub the sponge tip across your rubber stamp then remove the cleaner by vigorously rubbing it on a stamp cleaning pad, wash cloth, or paper towel. Again, there is a conditioner in this product that will keep your rubber stamps soft and pliable for many years to come.
There is a recipe floating around on the internet, somewhere, for glycerine, water, and a few other ingredients for making your own stamp cleaner. I'm not sure what, exactly, it is but I do intend to find out.